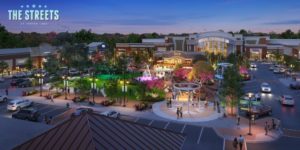 Fairview Heights, IL, February 20, 2019
IMPACT Strategies has again been selected by U.S. Properties Group to oversee another one of their Midwest retail redevelopment projects. The Streets of Indian Lake in Hendersonville, TN is a renovation project of an existing common area and social space in the center of a Lifestyle Center.
This renovation will bring new life and event opportunities to the plaza. The roughly two-acre space will be outfitted with a concert stage and lawn amphitheater as well as integrated, concrete seating.  In addition to three new pergolas, phone charging stations, decorative stamped concrete, and other amenities, there will be a fountain in the center with waterfall edges and integrated lighting, making this plaza an attractive and convenient gathering place for a multitude of occasions.
IMPACT Strategies is working with architects from RDL Architects and civil engineers from The Mannik & Smith Group, Inc. on this project. Renovations are set to be complete in April 2019.