Fairview Heights, IL – February 22, 2018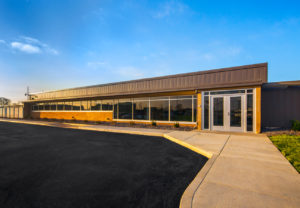 IMPACT Strategies teamed with Ameren Illinois to renovate the energy delivery company's 60-year-old East St. Louis regional operations facility. A grand re-opening of this facility was celebrated at a local ceremony in January.
IMPACT Strategies started work less than a year ago in May 2017 and completed their tight schedule on time in December 2017. First, they gutted the office building and truck shelters, stripping them down to their basic skeleton. From there, IMPACT Strategies installed completely new electrical, plumbing, mechanical, and fire protection systems, plus interior finishes and a new exterior facade. Features of the revitalized facility include energy efficient LED lighting throughout the building, numerous conference rooms, and focus rooms equipped with updated technology, a new wellness room, locker rooms, and a large training room. The storage yard was also entirely rebuilt and parking lots were refinished and extended for increased employee parking.
For Ameren Illinois, this project was about more than just upgrading a facility. It demonstrated the company's commitment to solidifying East St. Louis as a key hub for its Metro East operations while providing its local employees with a more efficient, state-of-the-art work space.