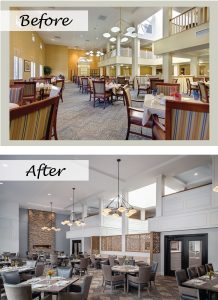 IMPACT Strategies has completed extensive interior renovations at The Watermark at St. Peters, a three-story, 184-residence independent living facility in St. Peters, MO. The Watermark is a 13-acre retirement community featuring walking paths, a lake with unique water features, and outdoor amenity spaces in a resort-like setting.
The comprehensive renovation of the interior of the building and included refreshed spaces for the exercise room, activity room, indoor pool area, locker room, private theater, library, and family room on the first floor as well as new carpet, specialty trim, and paint throughout the corridors on all three floors.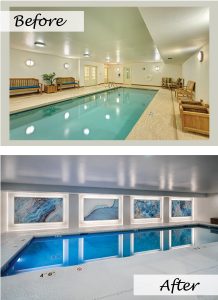 The project also involved gutting and remodeling the second-floor dining area and first floor atrium. To create a more open vision in the atrium, existing wood beams were removed, and concealed steel columns and beams were added. This required special structural considerations spanning all three floors to transfer the structural load.
IMPACT Strategies began work in October 2021 and completed the project on schedule in June 2022.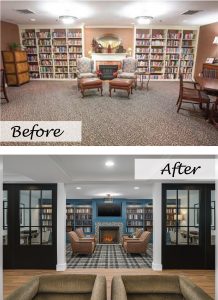 "The renovation at The Watermark at St. Peters has truly transformed these spaces. We value our long-standing client relationships and are thrilled to have completed another project for Longview Senior Housing Advisors as their trusted advisor and partner in construction," said Project Manager Travis Schwartz of IMPACT Strategies.
The Watermark at St. Peters is IMPACT's fourth project for Longview Senior Housing Advisors; the firm recently completed extensive renovations at another senior living community, Richmond Place in Lexington, KY, for Longview.