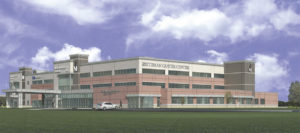 Fairview Heights, IL, February 6, 2019
IMPACT Strategies has begun construction on the new Siteman Cancer Center to be housed in a new medical office building on Memorial Hospital East's Shiloh campus. The new building will add approximately 70,000 square feet of treatment facilities and office space to this Illinois campus.
IMPACT Strategies will contract up to 25% of the construction of this project to minority and women owned business entrepreneurs. Further, in cooperation with metro East area construction unions, efforts will be made to employ minority and women, and apprentices.
Construction of the medical office building is set for completion by late 2019, with Siteman's opening planned for January 2020.